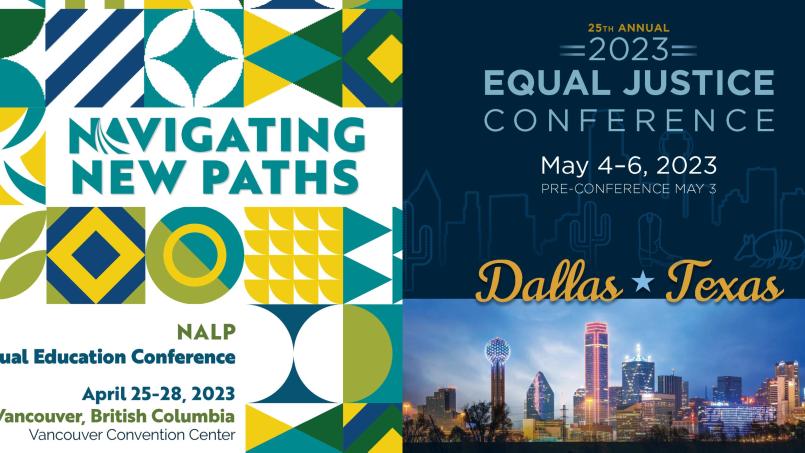 APB News
Home and Away: Everyone Legal Clinic presents at two conferences over two weeks
May 01, 2023
---
Everyone Legal Clinic staff are presenting at two North American justice conferences over two weeks in April and May 2023.
In Vancouver on April 27, Christine Arnold, Erin Monahan and Jamie Maclaren presented on the topic, "Justice for Everyone: Revolutionizing Canada's System for Training New Lawyers [Or Trying Anyway]" as the feature of the NALP 2023 Annual Education Conference's Public Interest Luncheon. They shared the methodology behind ELC's planning and execution, as well as stories and lessons learned from the first year of its two-year pilot.
NALP kindly chose Access Pro Bono as its charity of choice for attendee donations and for proceeds from its 5K Fun Run and Walk along Vancouver's seawall.
One week later at the 2023 ABA/NLADA Equal Justice Conference in Dallas, Christine, Erin and Jamie present on the topic, "The Above the Line Network: Innovative Service Models for Those Legal Aid Can't Help" along with staff from fellow incubators at The Chicago Bar Foundation and Charleston Legal Access. 
The Above the Line Network is a new group of incubators, non-profit law firms, sliding-scale legal aid programs and other entities working to better serve the huge group of people who make too much to qualify for free legal aid or pro bono services, but struggle to find affordable legal help.